A Ukrainian Travelogue
A trip to adopt two children from Keiv.

by Craig A. Smith
---
Dramatis Personae
| | |
| --- | --- |
| Yana & Sasha | our new daughter & son |
| Pasha | host and keeper of the paperwork |
| Annya | our translator (her husband is also named Pasha) |
| Tanya | Pashaís neighbor and good friend |
| Oleg | Tanyaís husband |
| Ola and Oolea | Tanya and Olegís daughters |
| Simon | in-country facilitator |
| Sergai | our driver |
| Michael & Todd | American traveling companions |
| Marrea and Marina | two girls Michael & Todd are adopting |
| Natasha | Pashaís daughter |
Wednesday 1999-09-15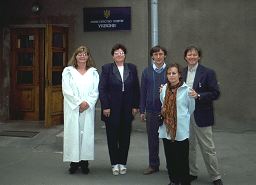 Sasha Kostenko was born 1999-01-02 in Vasilko (about 10 km south of Kiev). His mother, Halyna Kostenko, is said to have run away. Her name, dob, city of birth, and the reported fatherís name all appear on Sashaís original bit certificate (copies in safe deposit box and Ukraine box for children). The hall of records in Vasilko will destroy the original and replace with new birth certificate showing Dina and myself as parents (they also keep a record of the original birth parents for their eyes only - not available to public).

Thursday 1999-09-16
We have a long day ahead of us. The first stop is the US Embassy, Kiev, where you might expect less paper work, I signed the acknowledgment (of childrenís medial diagnosis), but since the Consul didnít witness my signature, had to fill it out again. Security was tight. The street had been barricaded against parked cars with tasteful cement planters. We bypass a long line of Ukrainians by using the only touch-tone phone Iíve seen since our arrival (all others are rotary) to gain admittance. One person at a time may enter, and all bags are searched. They take my camera, film, flashlight, spare batteries, and warn me not to ever bring in food again. A poster at the guard house offers a $5 million REWARD for Osama bin Laden.
Dina joins a long line waiting for visas till the guard spots her US Passport and directs her to a different inch thick window of bullet proof glass. The Consul apologizes for the delay (hey, weíve been in Ukraine 3 days: this is the shortest wait yet!) and witnesses the form for the Warsaw embassy.
Weíre off to the Adoption Ministry for a third time to pick up the paperwork the judge will need. We are in luck: we have been given permission to adopt Sasha and Yana!
The next stop is Delta airlines (after an abortive attempt at Austrian Air) to change my ticket. They can change my travel date for $150 no problem, but insist I must start in Warsaw. Seats are available to Warsaw, and every other leg of my trip except from Warsaw to Vienna. Even the standby list is closed. I could conceivable wait for days to leave Warsaw (they donít fly every day). Iím 3000 miles short of an award, so I must buy a new ticket, only to find out it should have been for 09/22. Simon had confused his arrival date and generously offers to pay the additional ride to the airport (saving him a 6 hr wait at the airport and a 4am departure from White Church).
By 6:30pm, weíre back at Yanaís orphanage to pick up health papers. Michael & Todd must be going batty! Turns out they already ate, but we cajole them into toasting with the Vodka we picked up (US$ 1 for half a liter). We toast our children, our hosts, a safe trip, and friendship, everything except Ukrainian paperwork!
Up until now, the phone generally worked, although it can take some time to get an international line. Now itís dead ? no busy signal, no dial tone. Pasha beckons me with screwdriver and knife to the hallway cabinet. We re-strip and tighten the wires but to no avail. This turns out to be a blessing in disguise as Dina and I are invited to use the neighborís phone. While I redial repeated, only to get a busy signal after the first 8, we toast family, friendship, children with "Brandy" ? actually samogonka, [literally "vodka at home" i.e. moonshine] which it appears Tanya distilled in her kitchen! Her husband Oleg served in the Russian army as a fireman. We tell him that Dinaís father was also a fireman. He shows us a photograph of himself with some army buddies holding a radioactive sturgeon they caught but did not eat.



International Dialing Instructions For Travelers To Ukraine
To call the USA, dial 8, wait for a second dial tone (if you get a busy signal start over), and dial 10011 for AT&T. Typically, however, youíll get a busy signal at this step. Start over. If you do get the "AT&T" welcome, youíll then be prompted to "press or say" the area code and number. Since there are no touch-tone phones, try to pronounce the numbers slowly and clearly. Youíll be asked "did you say 888-555-1234?" Answer "Yes" and youíll be promoted to say "Collect, Calling Card, or Operator assistance." I chose Calling Card and then spoke my card number and pin. I have to admit I was pretty impressed with AT&Tís speaker-independent voice recognition technology up to this point. But then, almost invariably, a live operator would ask for my calling card number again! (they assured me this would be at non-operator assisted rates). Thatís all there is to it for $1 per minute plus $0.89 connection fee. But I recommend you ignore the above and arrange someone back home to call everyday. Note only does it cost less ($0.22 per minute if you have an international plan) but they will typically get through on the first try!

Friday 1999-09-17
Annya, our interpreter, fills us in on the background of the town. White Church, founded in the year 1032 by Prince Yurey the Wise, now boasts a population of 280,000. Legend has it that a Church was built of birch with the bark still on, hence the name.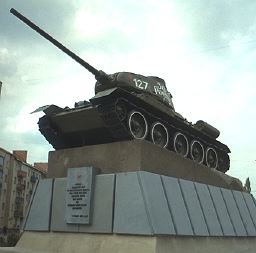 Itís time to see the judge! Thinking they want to see us separately, Dina and I both believe sheís being lead into chambers. But then Simon appears from the opposite direction asking frantically "whereís Dina? The judge is angry: he has been waiting 7 minutes!"
"I donít know" I reply. "Isnít she with you?"
Apparently, the interpreter hadnít heard Dinaís "I can wait" and has taken her to the Ladies room! Regardless, the judge is cordial and verifies my employment and salary. He tells me that I am financially well able to care for these children and waives the customary 10 day waiting period. The children are ours! But now itís Dinaís turn to anger as the judge hadnít asked her a single question! "Male dominated society!" I hear her fume. Latter we learn that Michael & Todd had been more thoroughly interrogated and informed of the Ukraine law that these children must retain their Ukrainian citizen ship until 18 (US law recognizes dual citizenship until that age anyway. Why would we want to eliminate any options for these children?)

Next, we visit the same dower faced notary we saw before to obtain passports for the children. I think I saw her smile this time; last time she had eyed us suspiciously while comparing us to our passport photos. While we wait, Dina goes off to the pharmacy to find a cure for too much "vodka at home."

Dina is in tears: what will Yana think that weíve taken her from the Spanish family that hosted her last summer? Weíve adopted this girl we only met once ? and who barley spoke a word ? largely on the recommendation of our facilitators. Then we didnít even visit her yesterday (Thurs) as we had to go to Kiev. We must see her today! Morning visiting hours are already over, our interpreter is busy this afternoon, and Simon has an appointment the other orphanage. Could we telephone Yana to assure her we are coming back? No ? since the director is out, there is nobody to answer the orphanageís only telephone. But everything works out: Simon breaks his appointment to interpret for us, and Yana talks a blue-streak ("all the women want to talk to me" he boasts), and we even catch the director who answers all our questions about Yana. Apparently not just Yana, but 4 girls visited the Spanish family (we are given a photo of Yana wearing a beautiful Spanish dress). They had picked Yana as the best, but a sudden death in the family forced them to change their plans, at least temporarily. The orphanage has refused to hold her for them, so she is available. We are surprised to learn she has an older brother in another orphanage. The father is reportedly dead, so we speculate the mother had to give them both up due to financial hardship.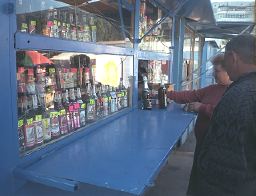 Everyone is in high spirits as the adoption is now legal! Simon splurges for 2 bottles of vodka (sold only in half liters) and 2 bottles of Ukrainian Champaign: 16 grevna or about US$4 total. We toast our children, our hosts.
At this point, Pasha tells her story Ö She was an orphan until age 16. Now she labors to help find homes for these children. When she was first asked to help Americans adopt Ukrainian children, she said "nyet," but now she sees she was wrong. We are moved to tears and I decide I want to use my frequent flier miles to bring this remarkable woman to the USA where she can see all the children and the homes were she has helped place them. She can never return to the town were she grew up: Chernobyl. Even in White Church (zone 4, 150 miles to the south), people complained of soreness in the throat and difficulty swallowing following the 1986 reactor meltdown. Residents are now entitled to free public transportation throughout the Ukraine.
The bottles are drained and so are we. I wonder if I will be able to sleep tonight?

Saturday 1999-09-18
Since our driver Sergai will be busy at his cousinís wedding (a three day affair in the Ukraine) this afternoon, Dina and I decide to split up. We drop her at Yanaís and I went with Michael & Todd to see Sasha. I videotape the sights of White Church along the way.
We arrive to the stunning news that the children are sick. (103°F) and we should go and buy indictable antibiotics and liquid Amoxicillian. I have hypodermic supplies in my luggage, but Sergai has left. Thankfully, Annya is with us. She helps us locate the medicines (going to 3 separate pharmacies). Despite the travel bookís warning that sterile hypodermic needles and syringes and not available, we have no difficulty buying these over the counter at the first pharmacy. A dozen ampules of antibiotic and 3 hypos costs me 6 grevna (about a buck and a half). Perhaps it is just the relatively high price that accounts for these reports?
When we return, we are told the doctor wonít be in till 11 ? too late for us to see the kids. I protest must see Sasha, since I hadnít seen him yesterday. When were finally admitted, weíre relive to see the kids are fine! They are running about but they do feel warm. I give Sasha 3 toy cars: the white Sheriffís car is his favorite.
Annya translates the posted schedule:
6:00-7:00 wake up
7:00-7:30 toilet
7:30-8:00 exercise
8:00-9:00 BREAKFAST
9:00-12:00 games/lessons, walk
12:00-13:00 prepare dinner
13:00-13:30 DINNER
13:30-15:30 sleep
15:30-16:00 prepare 2nd dinner/Tea
16:00-16:30 snack
16:30-18:30 games
18:30-19:00 prepare supper
19:00-19:30 SUPPER
19:30-20:30 games
20:30-21:00 toilet, prepare for bed
21:00-6:00 sleep
Shower/Bath once per week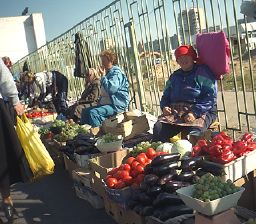 Back to Pashaís for dinner: overwhelming servings of potato dill soup, followed by meat and mashed potatoes, then itís off to the nearby bizarre.


Dina buys some cloths for Yana and Michael & Todd buy a precious light bulb (60 kopecks, a little over 13 cents) for the bathroom. The vendor actually tests the bulb on the spot.

I buy a couple of cars for Sasha and an extension cord so I can finally plug in both the TV and VCR at the same time. Ironically, a friend of Natashaís borrows the VCR before I can even set the clock!.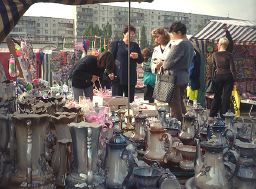 We are walking back from the market when Sergai pulls up in his van and jumps out excitedly. He is wearing a tuxedo. We are to be invited to the wedding ceremony. This turns out to be a production line affair.
The wedding party, headed by the bride and groom, wait in the hallway for the previous party to vacate the hall. .


When itís our turn, a woman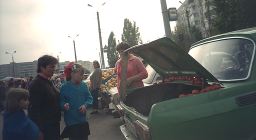 seated on the dais addresses the crowd with a microphone while load music is piped in between declarations. The whole thing reminded me of a Disneyô animatronics production of what a Ukrainian wedding would be like. The deed is done and the bride and groom bow deeply to their parents 3 times and receive 3 kisses from each guest. We are marched outside, in front of the next wedding party assembled in the waiting area. Iím the last person out and the proprietors literally slam the door behind us.
Outside, bride and groom toast with glasses symbolically tied together with ribbon.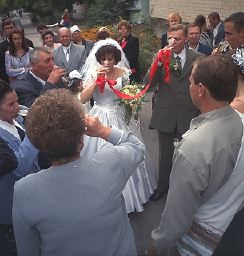 Judging by the number of empty bottle lying around, Iíd say 11 other weddings had proceeded us today. The best men (?) wear a wide, white sash across their chests. These are knotted at the hip were an intricate pattern is woven. One man carries the traditional ηڷò·Í [karavaj], a large round loaf of bread decorated with red berries. The happy couple board a car decked out with ribbons, flowers, and bells to go place flowers at an eternal flame - a memorial to those who died in the "Great Patriotic War" (WWII). The defeat of the Nazis continues to be a great source of pride, even if the economy, infrastructure, and the environment have not yet fully recovered from the years of communism..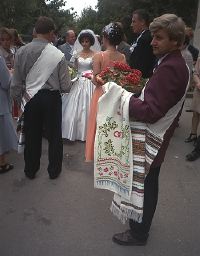 Sergai drives to the orphanage and his overstuffed van disgorges us. Sasha is mad at Dina because she hasnít visited for 2 days. We were in Kiev all day Thursday, and with Yana yesterday morning. Only I was able to visit yesterday afternoon. We return via jitney ? a sort of a small bus. I treat Todd to a draft beer (24 grevna, about 24 cents), and we stroll the market, taking in the sights (and smells) of fish, sunflower seed vendors, fresh mushrooms, and more..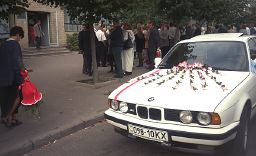 Back at Pashaís, Todd and I dash up the 7 flights of steps racing against the tiny elevator. Dinner is hotdogs and pasta (which, thanks to us, our hosts now believe to be an American favorite). Todd jested about ketchup last night. Now there are not one but two brand new bottles of ketchup on the table. This being our "second dinner" of the day, the fair is light: fried chicken and cheese! Tea and ice cream to round out the meal.
My mother-in-law calls. All is well, and we have her relay our phone number to Dinaís tutor Olga, who promptly calls back. The phones are frequently out of order, and even when working it can be difficult to get an international line (see the note on International Dialing Instructions For Travelers To Ukraine).


Sunday 1999-09-19
Dina and I swap orphanages again with her, Michael & Todd going to Sashaís while I visit Yana. Yana has her hair done up taller than her head, but before I can take a photo, they take in down. I give her an Inspector Gadget toy, notebook , pen, and lollipop, but the banana is her favorite. We play, and while Iím swinging her, she slips from my grip and fall to the ground. Sheís OK but I can see she had the wind knocked from her. (note to self: resolve to be more careful). We play ball, see-saw, and draw pictures and names in her new book. She continually draws a five pointed figure.



I suggest a crown or flowers, and she eagerly copies both into her book.
Sergai returns with the van despite the continuing wedding festivities (a 3 day affair in the Ukraine). And Dina gets to see Yana. I inquire about a road map so we stop at the book store where I find a Ukraine atlas for 10.50 grevna. They have Stolichnaya in large 1 liter bottle (the first weíve seen) for 10 grevna. We gather back at Pashaís (Iíve taken to climbing the stairs for at least some exercise) and then depart for BBQ.
Tanya and Olegís "summer house" has electricity and cold running water, and a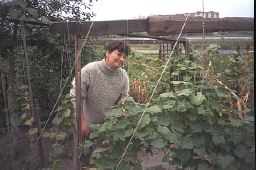 large garden of parsley, white radish, beets, tomatoes, corn, sunflower, cucumber, apples, and lots of marigolds (the national flower)..



We dine on pork shiskabobs
under a wonderful grape arbor.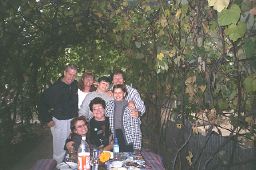 We can literally reach up from the table and grab a cluster of ripe fruit..



The toasts go round and singing and
dancing break out.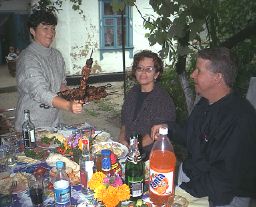 They have a saying "see the bottom" [of your glass]. When all 3 bottle have been drained, a bottle shaped like a cluster of grapes of fortified wine appears, much to Michaelís misfortune. She "saw the bottom" too many times and must go and lie down.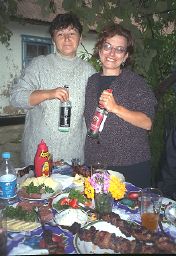 Back at Pashaís, Simon calls. He inquires how the day went and asks if I might help him fix his video camera tomorrow.

Monday 1999-09-20
We visit Sasha in the morning. The kids are still sick so weíre asked not to return for 24 hrs. Todd and I carry in 2 large bags of donations for the orphanage. Dina and I had asked what was needed, and are were told a new TV would be much appreciated.
The papers are still not ready, so we visit Yana outside of normal hours while Simon videotapes and photographs two other children. At dinnertime Iím really hungry, having skipped breakfast, and wolf down extra portions of breaded cutlets and mashed potatoes.
Back at the market we buy encyclopedias in Russian and Ukrainian, audiocassettes for the children, cloths and toys for the orphanage. I take some photographs of the market trying to remain inconspicuous. Iím getting better at this thanks to my 31mm Nikon camera: sufficiently wide angle that I can "shoot from the hip" and donít have to raise the camera to my eye. We buy ice cream and Dina organizes and packs while Michael & Todd go back to Oxansís flat. Pasha has gone out with them to pick up the judgement papers. When she returns, sheís had our photos developed. Not only are there good shots of the market and wedding, bUt also of me with the children. Dina needs the latter to prove to the US embassy that I had met the children. She should be able to complete the adoption after we get new birth certificates issued. I will return home to spell my mother-in-law who is minding our daughter Zoë.
After dinner, Pasha wants to do our laundry (by hand, in the bathtub). Dina says that I can do it. The other women think it hysterical when I do!

Tuesday 1999-09-21 Vasilkov, about 10 km south of Kiev.
We travel to the birthplace of Sasha and, conveniently, also Marina, to obtain new birth certificate. These will show that we are the parents. Michael has wisely asked for copies of the original birth certificates, so we have a record of the birth parents, since these will be destroyed (the office staff keeps a copy of the original for their eyes only).
Back to the judge one last time (why? I canít say) where we snap a photo of the whole team: Simon, Pasha, Sergai, Tanya, Michael, Todd, Dina, and I, all set against the ubiquitous van. Sergai suggests the tank might be a better backdrop, but Dina replies "we live in the Van."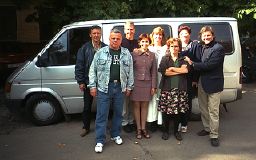 At Pashaís , we are again fed (of course), before Tanya takes us to the market. Dina buys more childrenís clothing while Todd and I try unsuccessfully to buy a beer. We walk home and everyone buys marogena (ice cream) ? to be latter scolded by Pasha for not eating whatís already in her freezer ? except for me! I had found a can of cold beer at an adjacent kiosk (beer comes in one size: 500ml).
Now, even cold water has been unreliable since some men were welding something in the basement, so Pasha has filled the tub (we can use a bucket to fill the toilet tank). I decide to skip my bath.
Hereís my summary of the utilities:
Bottled drinking water - not a problem: widely available and out hosts keep an ample supply on hand. They even ask if our preference is "with gas?" (carbonated) or without.

Cold Water ? almost always works. Bad sign: long line of people with buckets standing in line at the pump.

Hot water ? generally available in the evening, but rarely in the morning.

Telephone ? sometimes dead, often busy, this was the only thing we had difficult with; (see my note on International Dialing Instructions For Travelers To Ukraine for ways to cope).

Wednesday 1999-09-22
We get to sleep in till 9 am while Pasha and Simon takes Michael & Todd to get Mariaís new birth certificate. Tanya, Oleg, and their daughters Ola and Oolea take us shopping for souvenirs at the "department store" ? more of a indoor market than a department store -"where they sell nothing but junk" exclaims Tanya. Dina finds the nesting dolls sheís been looking for; although these had been common before Ukraine independence, they are now hard to find since they are typically Russian. In another shop we grab hand painted Ukrainian eggs (wooden) for 50 kopecks (about 12 cents). I find it interesting the refrigerators are only 750-800 grevna, while TVs are 800-900. I havenít noticed any microwave ovens and now I see why: they start at 11,000 grevna!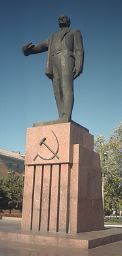 Oleg snaps a photo of me standing next to Leninís statue, while Dina finds inlaid wood boxes at a nearby jewelry store.
We visit an Orthodox Church under renovation. There is scaffolding inside and out, but even as a workman applies gold leaf overhead, the priest chants mass below. The air is thick with frankincense. Tanya lights a candle.
Oleg takes Oolea to school, so the rest of us take the jitney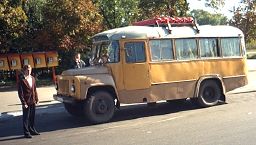 back to Tanyaís motherís café. We are served tea and sweet cakes, but I opt for a Kiev beer and dried fish. In the market, Tanya will direct us to the particular stall where we should buy our chocolate. She hands me a chocolate and a hair clip decorated with a butterfly (the wings actually move) to give to Zoë from her. That afternoon, Pasha takes us to the hall of records to get Yanaís new birth certificate. But there is a problem. The translations of our passports had been notarized in English rather than Russian. This forces us to wait 3 hours till closing. I think our strategy was to wait them out. At 5 pm, papers are hurriedly thrust before us. Pasha does her best to translate, but we have no idea what we are signing.
Thereís not much visiting time left at the orphanages. We pick up Michael & Todd and Iím dropped off at Yanaís. Just the 2 of us do fine: we play the card game Concentration. I think she understands when I tell her that Iím leaving for America tomorrow.
The van returns to drop Dina and I off at Annyaís flat. We meet her mother and unemployed video-cameraman/husband Pasha. He will patiently explain that government broadcasts are in PAL format, but that private stations use SECAM (somehow different from the French standard). We are served salads, and canapés of cucumber and fatty bacon on black bread while we watch their home videos of their wedding, baptism of their child, etc.
Annya presents us with 3 gifts: a karavaj towel (she points out that this October will be Dina and my 10th anniversary); a book of Ukraine folktales in English; and the expresso-coffemaker that Dina had admired at Annyaís motherís store. Her husband points out that I will have to change the plug for the USA but apparently doesnít recognize that at only 110 volts, the thing will never get hot! I carefully avoid mentioning this fact? especially to Dina who is delighted with this gift. Annya pays us a compliment:
"You are like no other Americans we have met. You want to provide a home to these children, you are interested in Ukrainian culture, and you like to drink vodka."
Pasha phones and sheís angry. We have to get up at 4 am tomorrow to drive me to the airport! Annya, her husband and dog, walk us home. Dina wants to send me home with some vodka, so we stop at the mysterious "night market" where vodka and cigarettes are sold by candlelight till morning. "Why didnít you buy vodka earlier? Now you will have to pay the [higher] night prices." We admit to poor planing, but at 10 grevna a bottle, itís still a bargain.

Thursday 1999-09-23
Off to the airport in the dark. It really does take 2 hours. Dina wakes up to kiss me goodbye. As I leave, Dina still has to get the kids medical examinations at the US Embassy in Kiev, Ukraine passports so they can leave, US Visas so they can enter the US, and then travel to Warsaw for immigration papers from the US Embassy there. The latter is given to her in a sealed package which is only to be opened upon entry to the United States. At that point, a customs official will write the childrenís green card numbers into their passports.
Sergai and Pasha help me with my luggage and wait till Iím through customs, X-ray, ticketing, and disappearing up the escalator before they waive goodbye. With nothing to do for 2 hrs, I tour the duty free shop. Black Caviar: $69 (twentyfold more than we paid in the market). The cartons of cigarettes are good value (US$18) but none of the vodka is Ukrainian.
On the long Vienna-Atlanta leg, I sit next to a friendly young Austrian zoologist. Heís studying mast ? a physiological condition of elephants related to rutting ? which has caused docile bulls to unexpectedly stamped into crowds. He must collect semen samples from as many zoos as he can. He describes how this potentially dangerous procedure is accomplished with a rectal massage of the bull.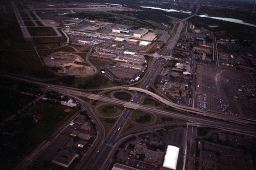 ---