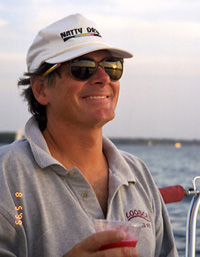 Craiggae
a hobby Apache server on a residential DSL line Cable Modem in my basement
---
Free, Open-source Software (FOSS)
PNG vs JPG
PNG is a newer image format combining the best of GIF (loss-less compression) and JPEG (millions of colors). Strange but true, a PNG-24 file is smaller than the smallest equivalent JPEG, but looks better than the largest JPEG.
Check the numbers
.
Travelogs
a true story about the education of the gifted by the naive.
My First Day, driving Yellow Cabs in Philly - "coming eventually ...
Top 10 Reasons My Land Rover Discovery Sucks
my first web-site, still working since 1996. Critically acclaimed by the London Times: "the graphics are excellent" (thanks to my brother David).
Sailing
Dancing



Hopefully more than just a bunch a snap shots, although clearly not up to the likes of my paragon Phillip Greenspun What! You mean it takes 3.6 MB for just over a minute of low quality video?!? This has got to be one of my prime motivators for running my own site vs getting space on a free site. See my guide to free servers if you need only 10 to100 MB of space for the price of an email address (also free). It's easy to do with a Macintosh, but hard to keep the kids off. With an old 90mhz Pentium and Linux I've got a dedicated server with lots of cheap disk space.